I promise my next post won't be about stuff or minimalism.
Home is boring af. Really.
One thing I noticed after two months in my hometown (one on a friend's couch and one at my parents') is that things get slow as fuck when you're comfortable.
I have networked quite a bit back home, but always with that weird feeling that I'm missing out on something for staying there.
Needless to say, after spending ten months working as a software developer in another city, home doesn't feel like home, and I can't get used to it anymore.
That's why I'm choosing to move, and that's all the stuff I'm taking for now: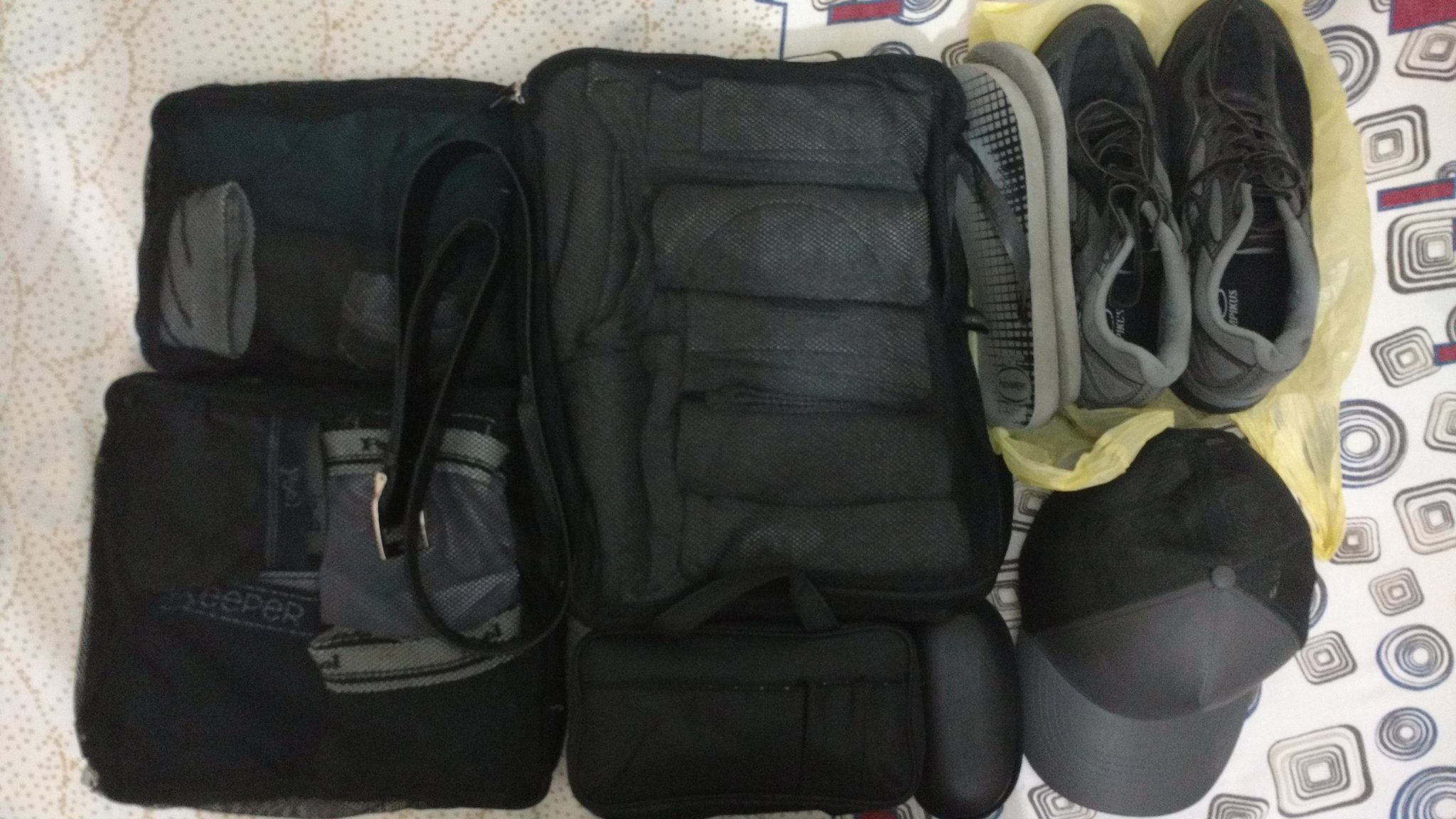 👞 2 pairs of socks
👖 2 elastic shorts
👖 2 jeans shorts
👙10 pieces of underwear
👕 7 grey T-shirts
🛁 1 bath kit (deodorant, shampoo, etc)
🕶️ 1 sunglasses
🎩 1 cap
👡 1 pair of flip flops
👟 1 pair of sneakers
💻 1 MacBook Air & charger
📚 1 Kindle Paperwhite
📱 1 Motorola MotoX & Turbocharger
🎧 1 JBL headphone & earphones
🐁 1 Microsoft mouse
🔋 1 Pack of Duracell
☎️ 1 Phone desk supporter
✏️ 1 pen & 1 text marker
🎙️ 1 AUX cable
🖥 1 MiniDP to HDMI adapter
👛 My dobra wallet
🎒 My big carry-on backpack
💼 My small daily backpack (that goes inside the carry-on bag)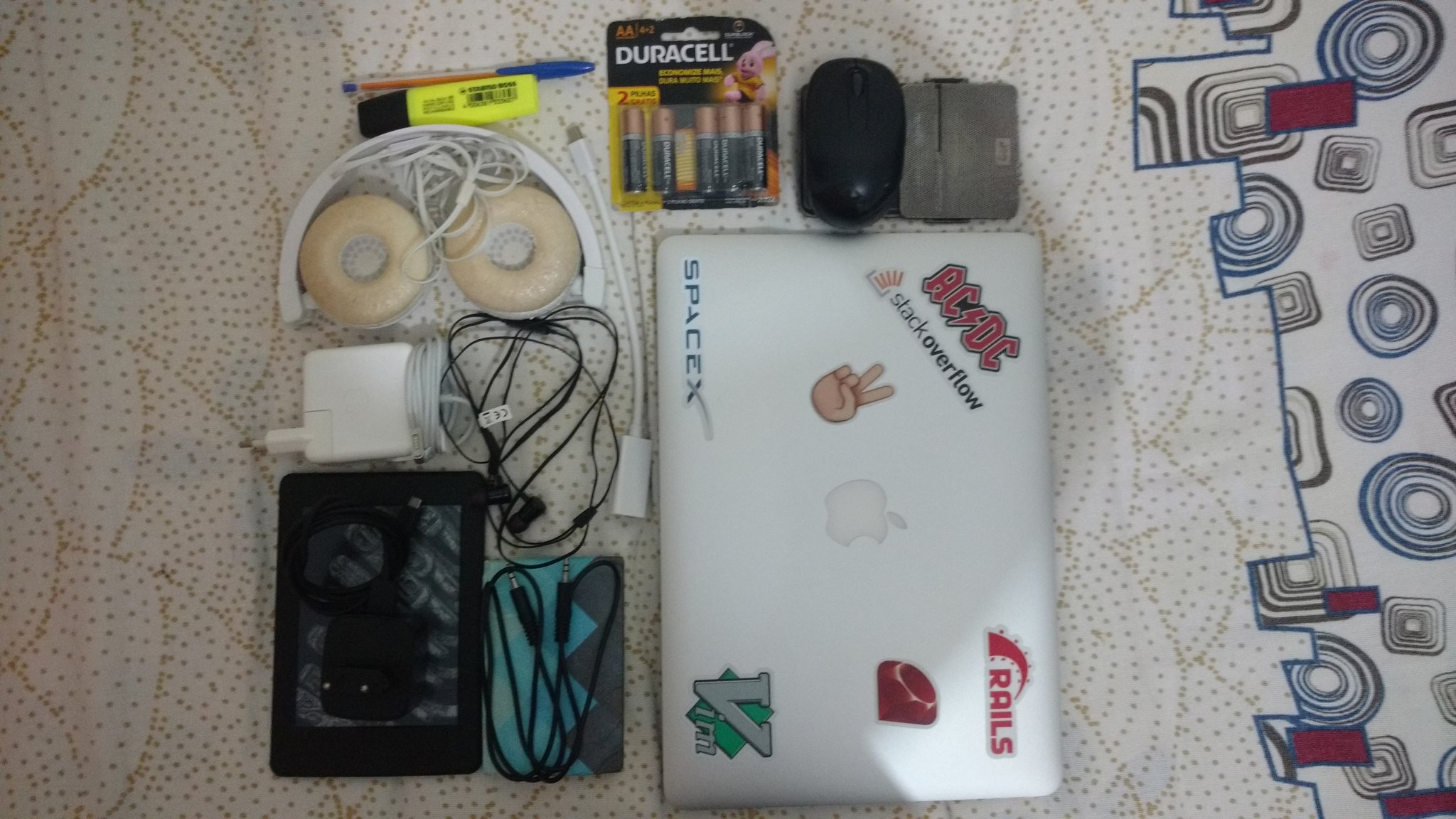 That's 45 things. Well, actually there's more stuff inside my wallet and my bath kit, and also my packing cubes, but you get the point.
This is how my backpack looks: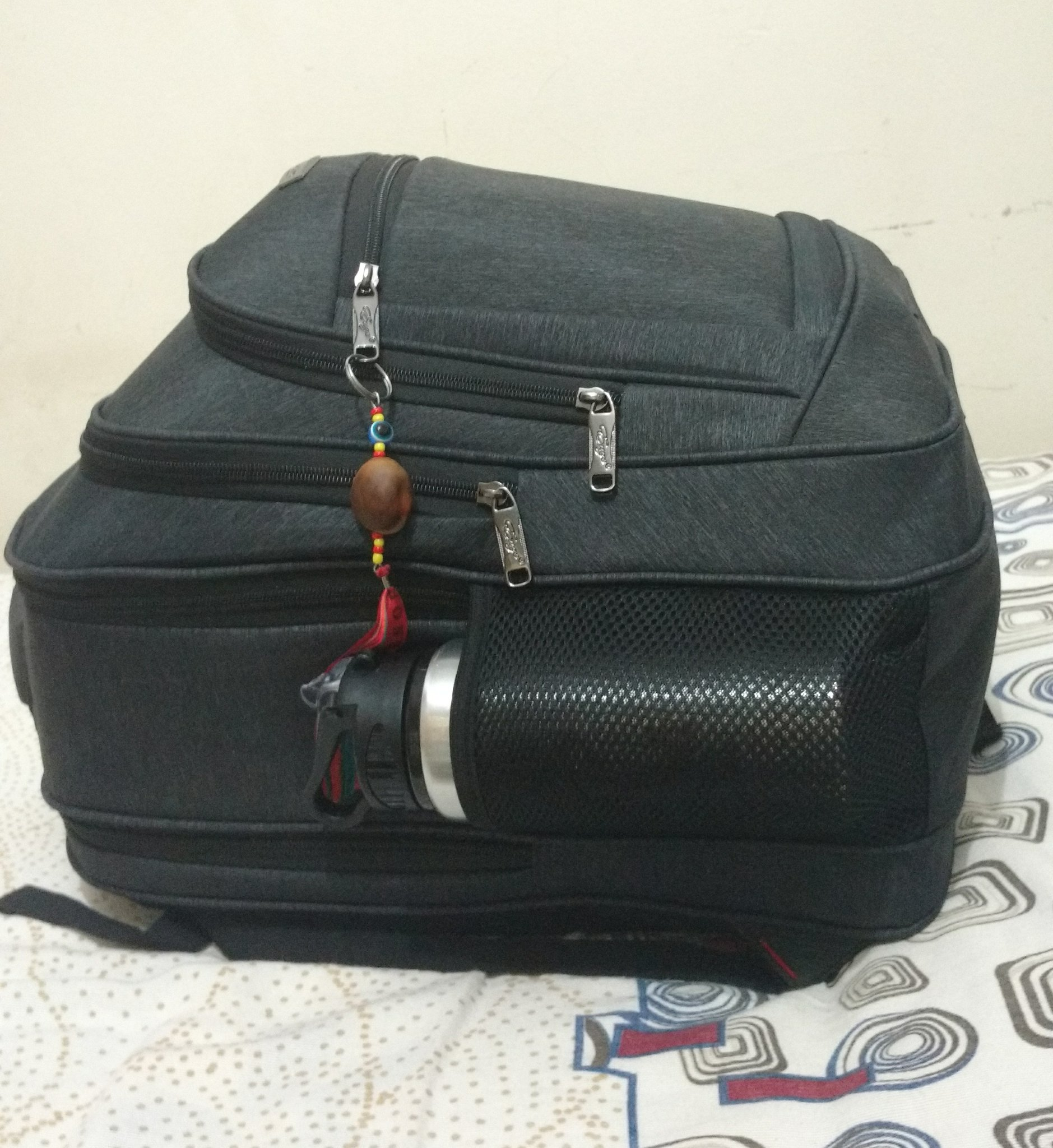 Too hardcore? I don't know. Let's find out.
The first stop is Petrolina, around 800km from my home town. Not far, huh?
I can't go international yet because I'm still in the process of getting a Mercosul passport, and also because USD/BRL rate is going nuts. Fucking undeveloped economies.
So Petrolina is nice because 1 - it's low cost, 2 - it has an airport, 3 - I have family there so I can avoid rent while I'm there, ha.
I'll probably spend a month or two there doing what I'm already doing (leveraging up my savings with contracts and struggling to learn marketing) and then fly somewhere else once I have enough confidence. I don't wanna go back home. Nope, not at all.
My freelance business is doing fine and I'm optimistic about chamados.io now that I'm slowly figuring marketing out.
I like this unstable lifestyle because at least it is consistent with what I'm feeling inside. I don't know where I need to go, but I know this is my way.
My next destination after Petrolina depends on how good I can perform in the coming months. If I have enough money saved and/or enough MRR, I'll have the confidence to move. Maybe Belo Horizonte, maybe Buenos Aires, maybe Santiago, everything is possible.
Actually, it's more about feeling secure to make such a move than about the money itself. I'm pretty sure I could sustain a minimal lifestyle in another country with my current network of contracts, but maybe it would be too much pain without savings or recurring income.
I'll probably figure out all this stuff in the next six or eight months, so sit tight with me. It's going to be funnnnn.