Of all the places I thought I'd visit last year, Oman was definitely not in my first guesses.
However, after spending some time in the Emirates, I found myself craving Arab food, the desert, and some actual warm weather for a change. Maybe I had been holed up in Europe for too long already.
Adding to my impulses, I realized just after getting back from the UAE that I was a few points away from upgrading my Oneworld tier, before those points would expire and I'd lose the upgrade opportunity.
So, I didn't think twice and booked my tickets to the place with the cheapest ticket available that would get the points I needed: that's how I ended up in Muscat, Oman.
Traveling to Muscat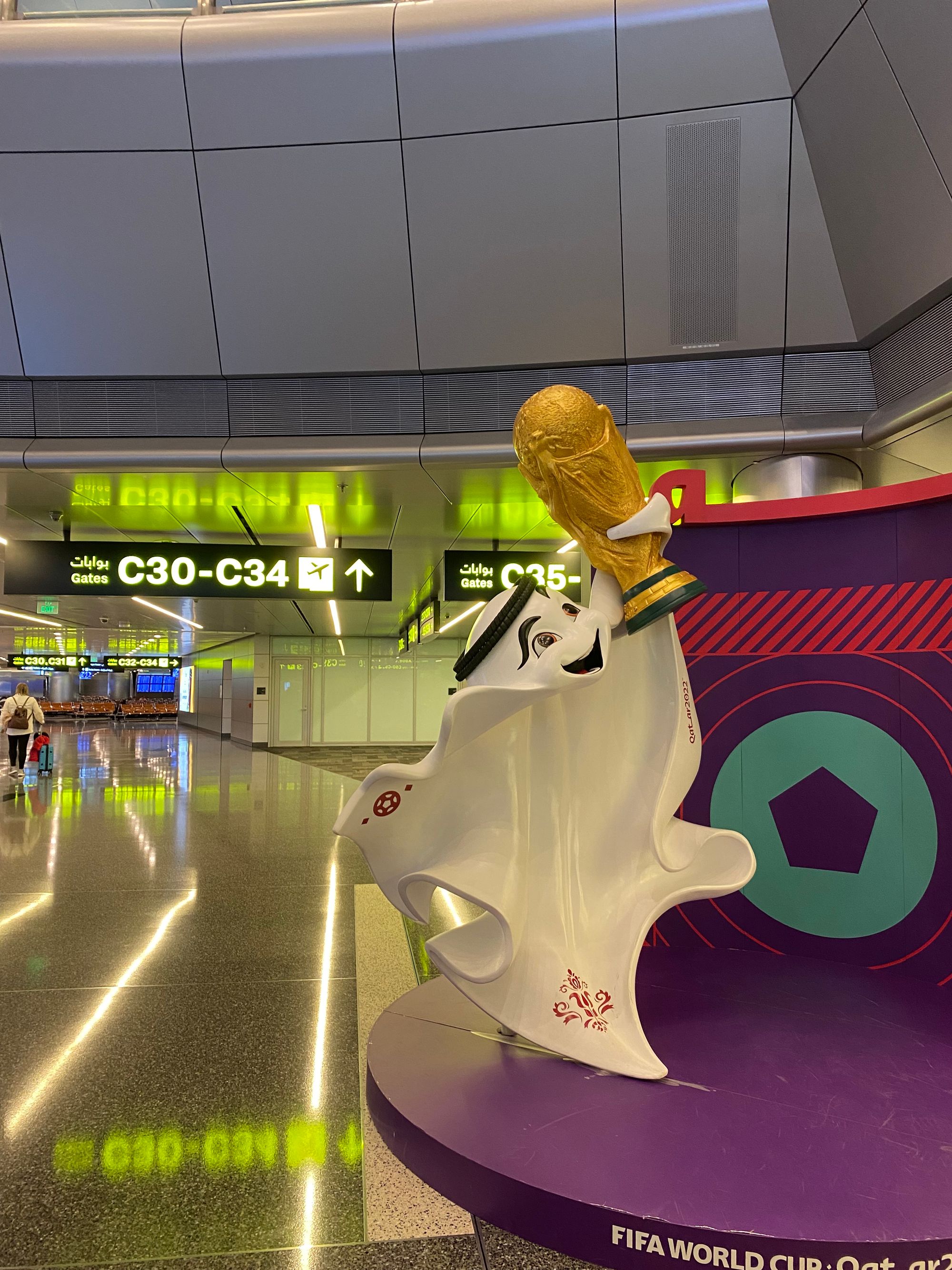 Transiting through Doha around the time of the World Cup had been exactly as I expected. Hamad Airport is huge, opulent, sparkling clean, made to show off all that natural gas wealth that Qatar accumulated over the past three decades.
That's how I felt in the UAE as well, and if you ask any casual traveller that has been to Dubai or Doha, he'll probably reply something along the same sentiment (some even may add how "soulless" those cities are).
I can't say this exactly bothers me (as it bothers some of my friends). Those cities do have a soul, it just isn't for everyone.
Nevertheless, seeing the airport and the city all geared up to received fans for the World Cup was quite a sight. Made me wonder why I had passed up the opportunity to buy tickets for matches a couple months earlier. When I explained to a Venezulean dude in the bus to the terminal that I was just transiting, he looked confused. "What?! You're not staying?! Brazil plays tonight!". There, he almost led me to scrape my plans and stay.
Landing in Muscat
A confession: although Oman had indeed been on my travel list for a while, I knew next to nothing about the recent history of the country.
I knew it had been an Empire at some point. I knew it was a diplomatically relevant country until today. I knew Portugal had occupied it at some point. And most obviously, I knew it was geographically relevant as it partially controlled the Gulf of Oman, and a part of the Strait of Hormuz, some of the most (if not the most) important waterways in the world for commerce.
Knowing all that, I naturally assumed a few things:
Oman is filthy rich
I should expect more of what I saw in Doha and the UAE
I couldn't be more wrong.
The differences were noticeable upon leaving the plane already. The airport terminal was much smaller, and although I can't say there wasn't some opulence involved, things looked "classy", but much more "normal". At that moment I realized this wasn't going to be my average visit-a-filthy-rich-Gulf-country trip.
Oman came across as a "normal country", with no need to show off like its neighbors. That left an impression on me.
At the border yet another surprise: they stamped me in for almost three months, instead of the fourteen days I expected! Neat.
Getting around in Muscat
Another thing I made sure to research beforehand was transportation in Oman. In my experience, the Middle East is a highly car centric place, and Muscat didn't seem much different.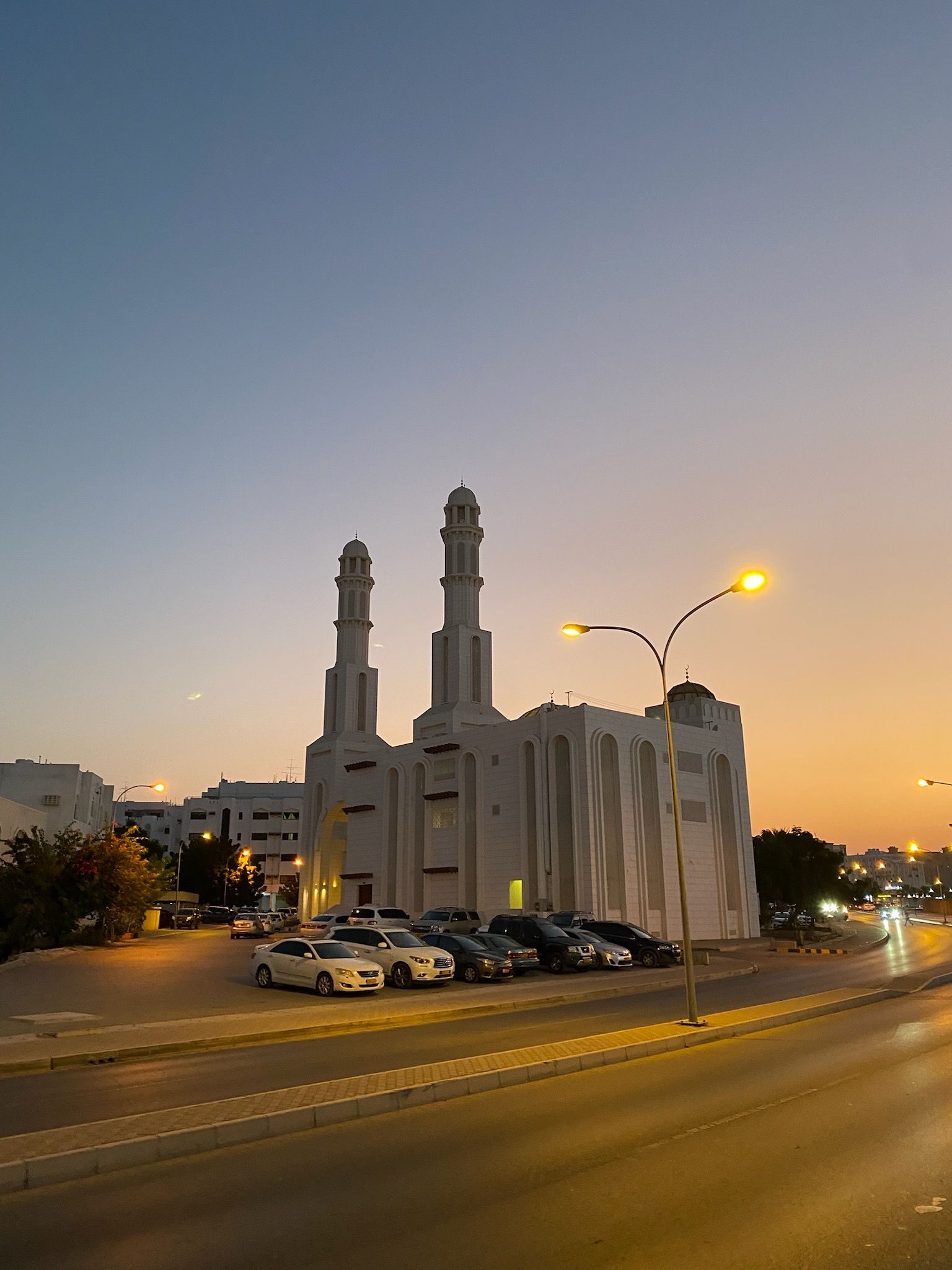 It can feel like a lot of the countries in the region just straight up hired the same city planners that designed car-centric U.S. cities and never thought much about it.
To be fair, if cars are affordable and gas is cheap, there probably isn't much desire for a city to be "walkable" under 40°C heat.
So, with no drivers license in hands (yet), no ridesharing apps, and a public transportation system that didn't seem like it was going to cut it, I was left with one option: taxis.
I generally dislike taxis anywhere in the world, due to ovious reasons, so I was pleasantly surprised when the driver at the airport quoted me... exactly what I was expecting to pay, to get to my hotel.
I paid my fare in cash (sorry my friend, cash only!), and downloaded a few of the different apps from different taxi companies to explore the city.
Exploring Muscat
If you're interested in sightseeing only, you can cover the whole Muscat in a day or two, which is more or less what I did.
This was kind of a new thing for me, as I'm not used to travelling with a return ticket in mind, so I wanted to make the most of my time there.
First stop was the national museum, around Muttrah, where I spent the better part of a whole morning nerding around Oman's history.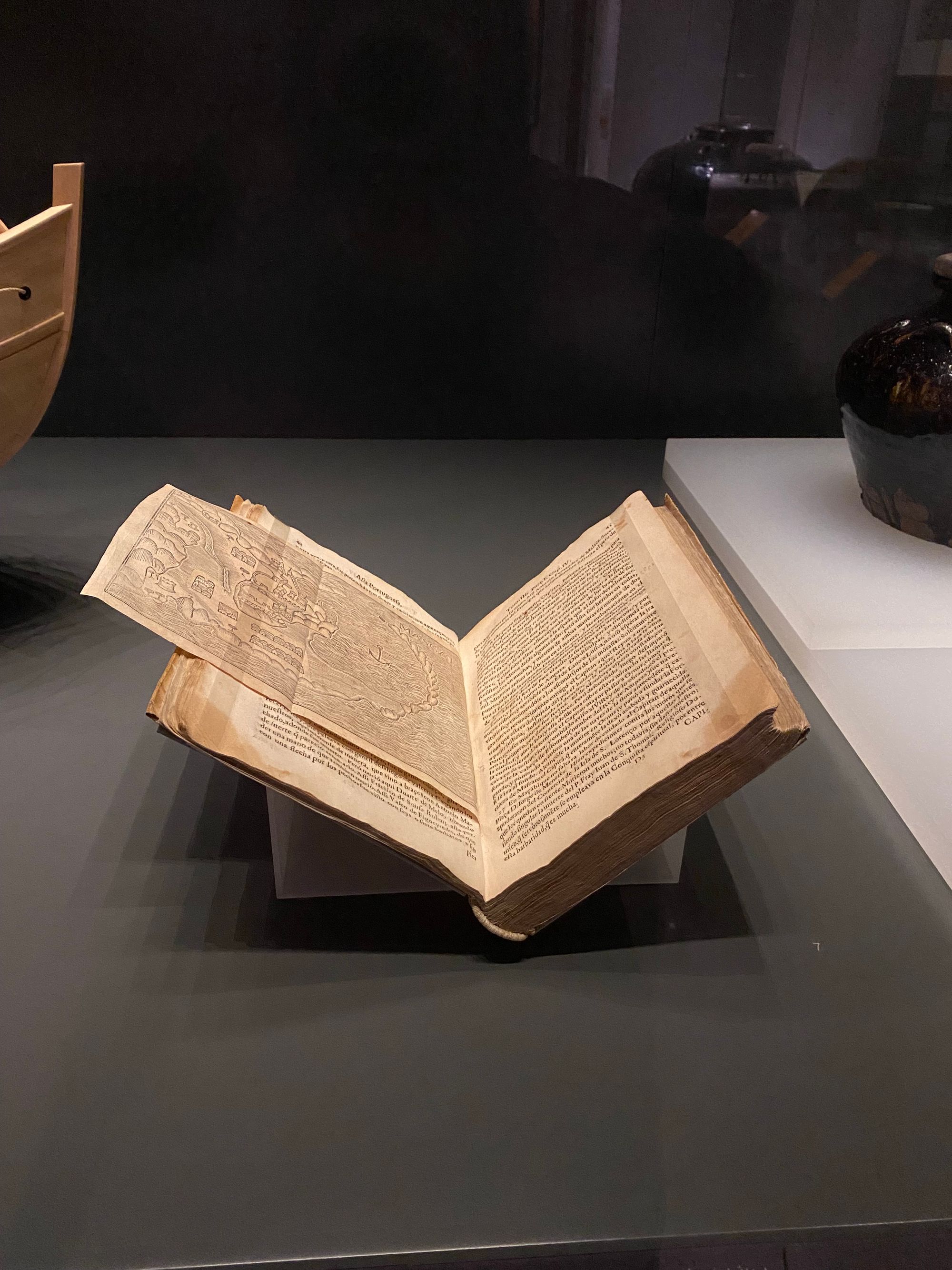 I had no idea it's empire had once contained Zanzibar (another place I've been looking forward to visit), and that many Omanis actually speak Swahili.
Oman's diplomatic history as a nation friendly to everyone was also on display everywhere, something that tickled the geopolitical nerd in me. If you never heard of Oman before and are into geopolitics, I highly recommend reading or watching a bit about it.
The Muttrah Souq was maybe one of the disappointing highlights of the trip. Although huge and with lots to see, the clerks are way too clever and the prices way too expensive for what things are worth. I had fun negotiating things until half the price though, as a sport.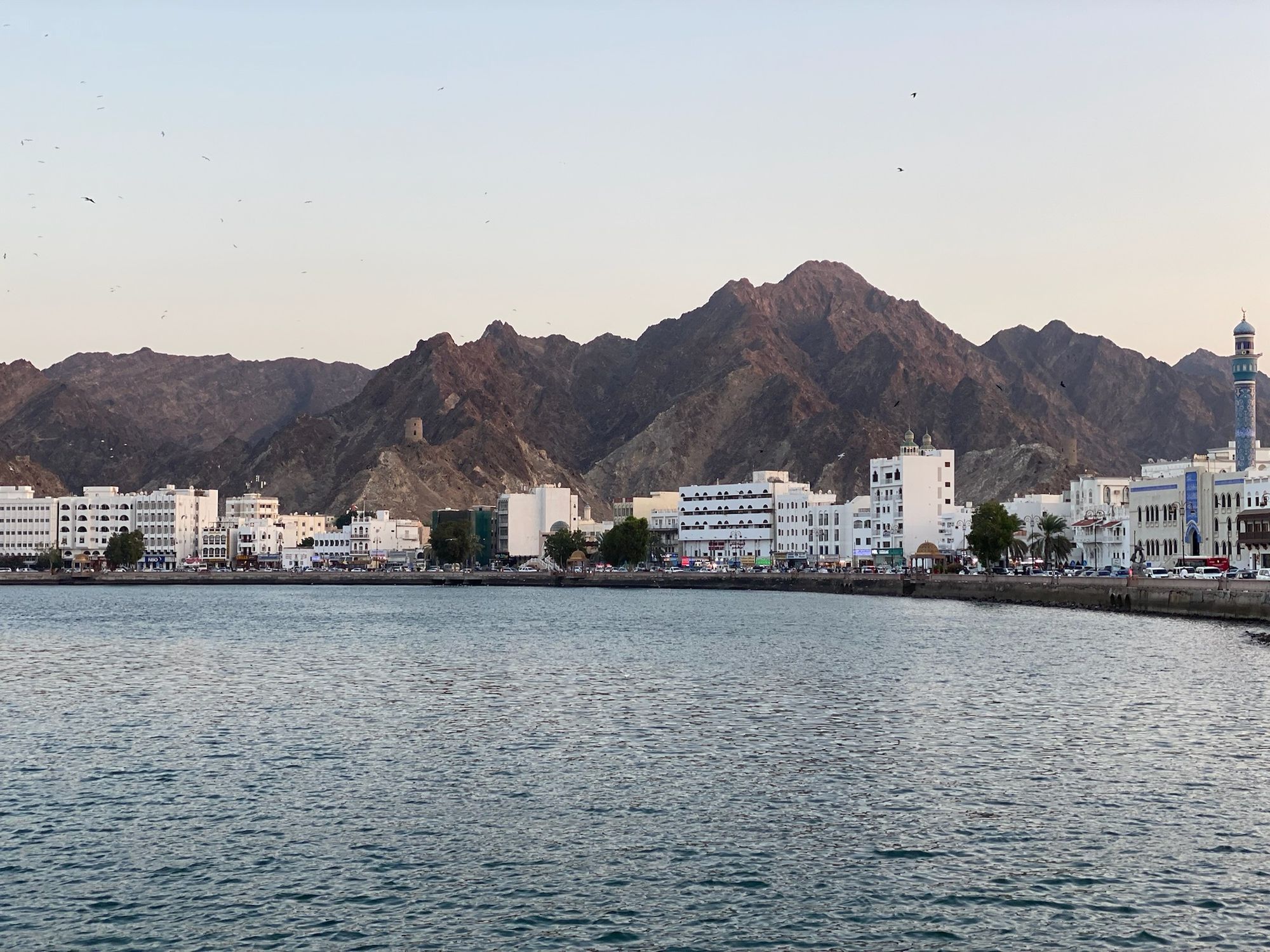 The following days were more of the same. Eating amazing Omani food, lots of dates, and the occasional visit to a Lebanese restaurant or the 11PM shisha cafe craving.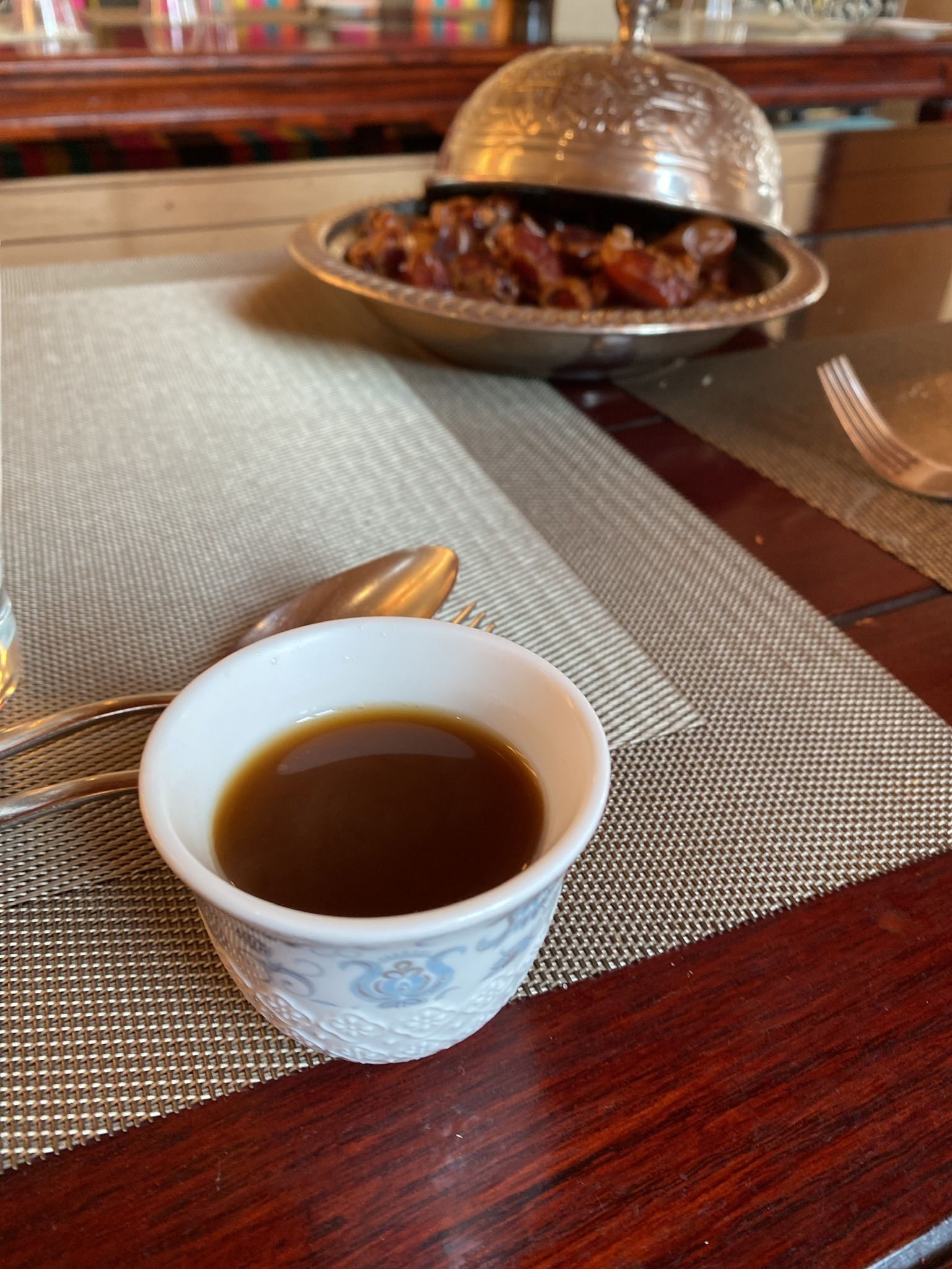 However, I knew that the highlight of the trip wouldn't be found in Muscat.
Not being able to rent a car reduced our radius quite a bit, but fear not, we made friends with a taxi driver that accepted driving us out the city.
That morning started with a quick trip to the Sultan Qaboos Grand Mosque, and as far as my understanding of mosques go, that looked like quite an impressive one.
I guess we can call a mosque that had its chandelier designed by Swarovski, and its 4,000 square meters carpet woven inside the mosque by Iranian woman opulent, right?
Our friend then set off to Wadi Shab, a 2 hour drive from Muscat. The views on the way were incredible, and where I expected desert only, I kept being surprised. I wish I had taken more photos.
The Wadis
Wadi Shab is a wadi, or canyon if you like, a word most commonly used to decribe places where rainwater or water from nearby sources accumulate inside.
To get to Wadi Shab itself, you can comfortably drive from Muscat using Oman's amazing highways, park right next to the entrance, take a quick boat crossing that costs 1 ryal, and hike in the most slippery rocks ever for 45 minutes.
The hike is worth it though (just please don't do it wearing an AirMax!), as you get to swim in the most cristaline water.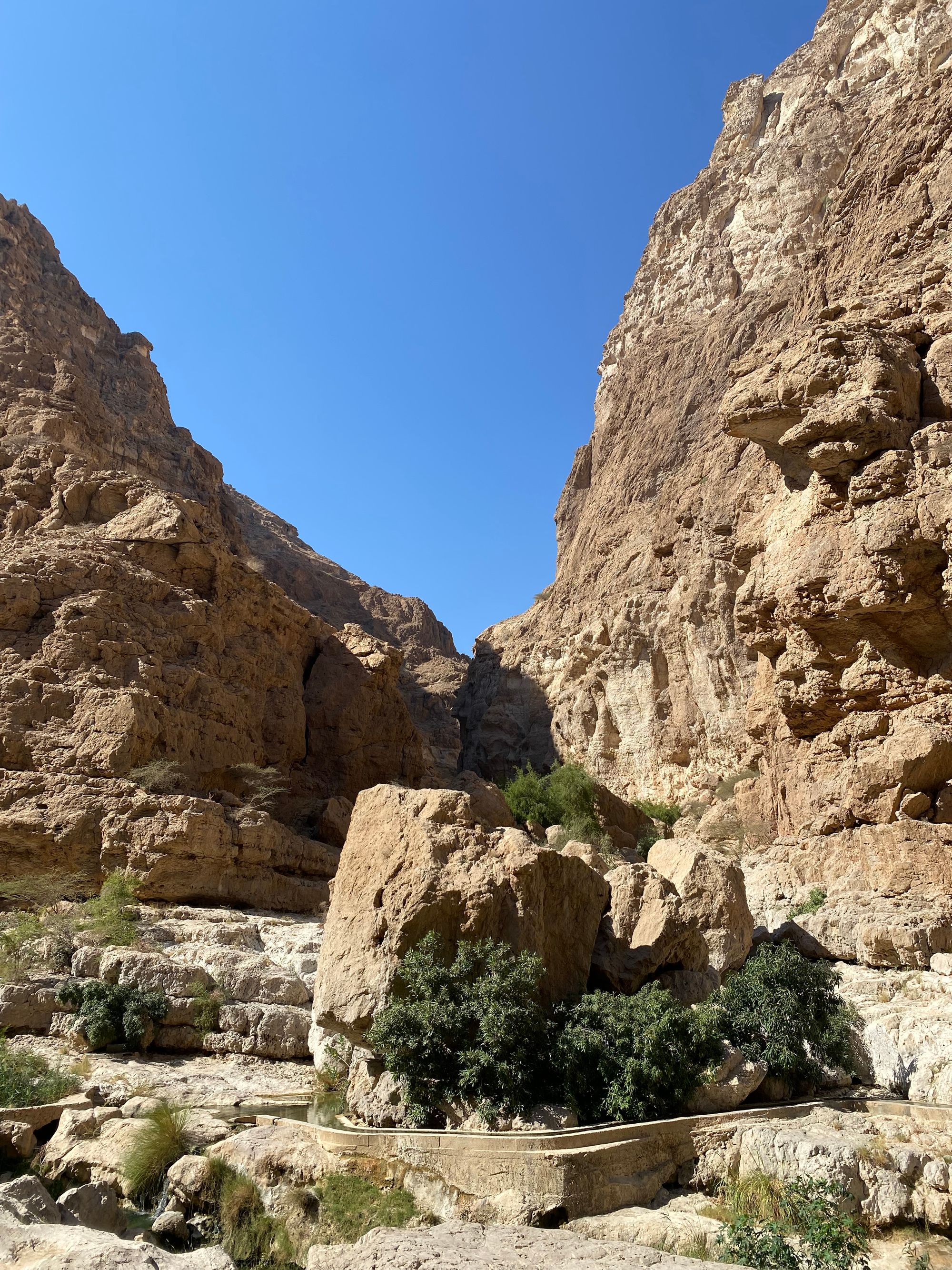 When we got to the parking lot, I looked at my guide (who was excitingly feeding banana peels to a free-roaming pack of fifteen goats) and expected him to say "see you in three hours" and go rest in the car.
He didn't do that. I think he was more excited than us about visiting the wadi, and during the hike he knew each exact rock to step on, passing along information to us.
Since the water level was quite low during my visit, it was possible to swim to the third water pool and enter that cave with the waterfall.
The nature in that place felt outrageously pristine, and I only wish I had the privilege of visiting places like that more often. Maybe I should leave the computer aside and go on more hikes.
On the way back, we stopped for more Omani food and took a few minutes to see the Bimmah Sinkhole (that hole where Casey jumped).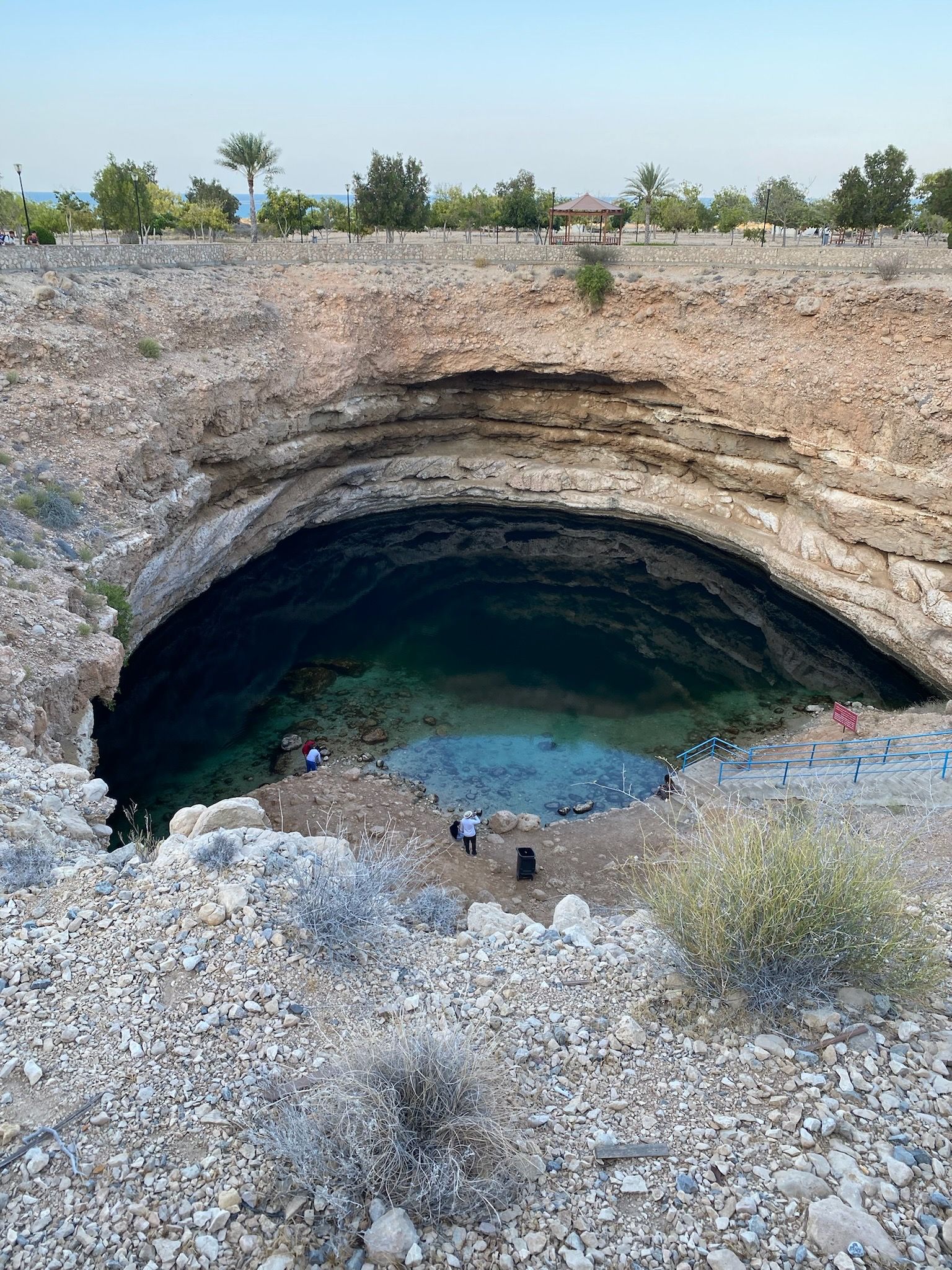 Not too bad for a day of wandering around.
The people
By far the thing I remember most fondly about this trip are the Omanis.
I've never seen more friendly people in my life, and I lived in Bali before!
Five minutes of conversation with someone you find on the street and they will happily invite you to their home for some dates and cardamon tea. My general impression was that they were happy to make friends and get to know foreigners visiting the country (something I've stopped taking for granted after living in Europe).
Oman is the only Muslim country with an Ibadi majority (neither Shia nor Sunni), and their history as an important trade port seems to have made the society quite tolerant and more open, for Gulf standards anyway.
Reasons to go back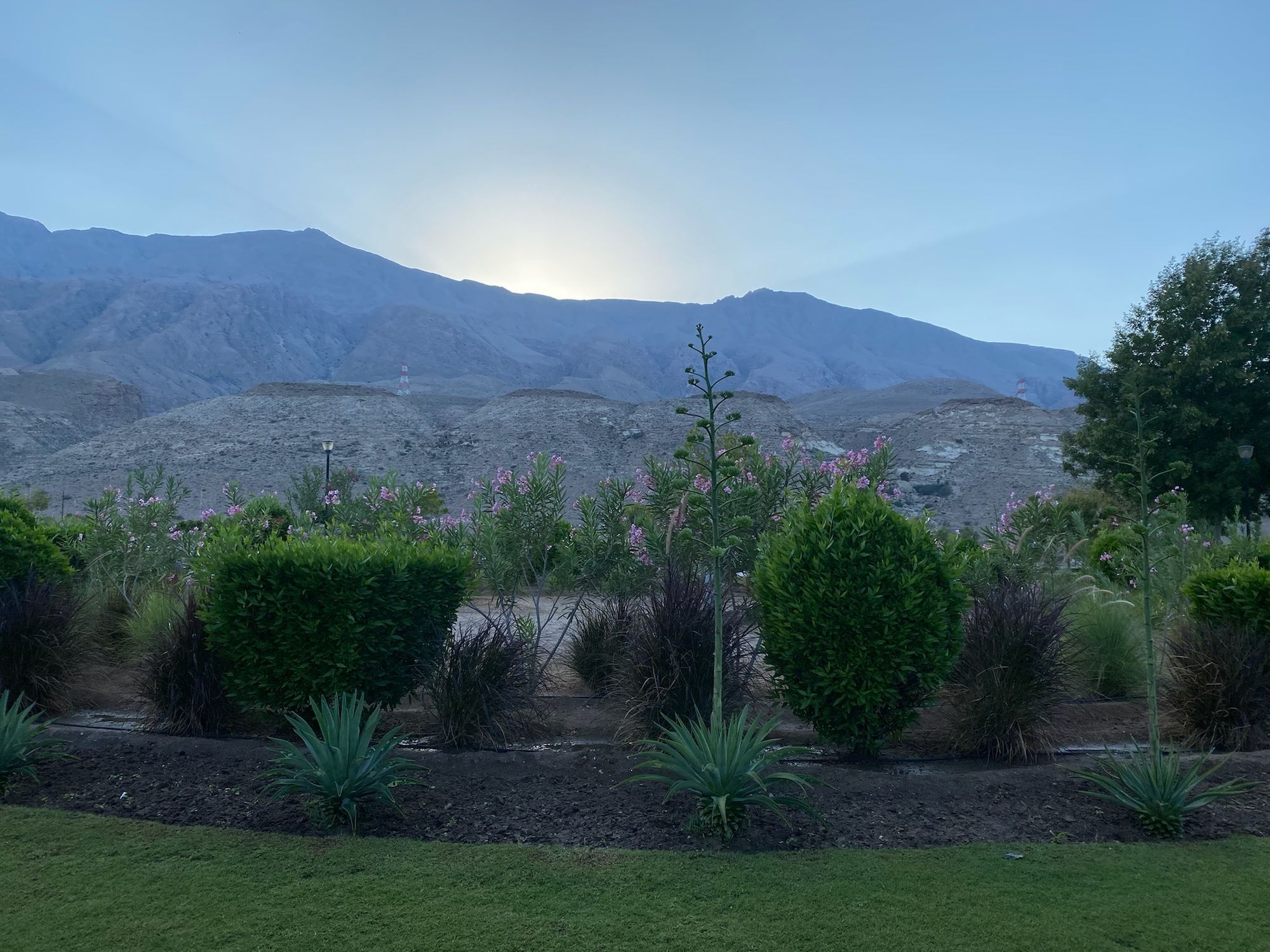 I wish I had my drivers license in hand when there. The roads in the country seemed nice to drive and it's permitted to set up a tent basically anywhere.
We didn't go to the desert so that's something I'll have to do next time. Maybe just rent a 4x4 with a tent, and spend a week driving around the country.
Overall, Oman was the most fun trip I did in 2022, and only opened my apetite to get to know more of the Middle East, a corner of the world I had no idea I would like so much.
Heading home
A few hours before flying back, I met up with our driver friend and set out to go to the Seeb Souq, a market around 40 minutes away from Muscat.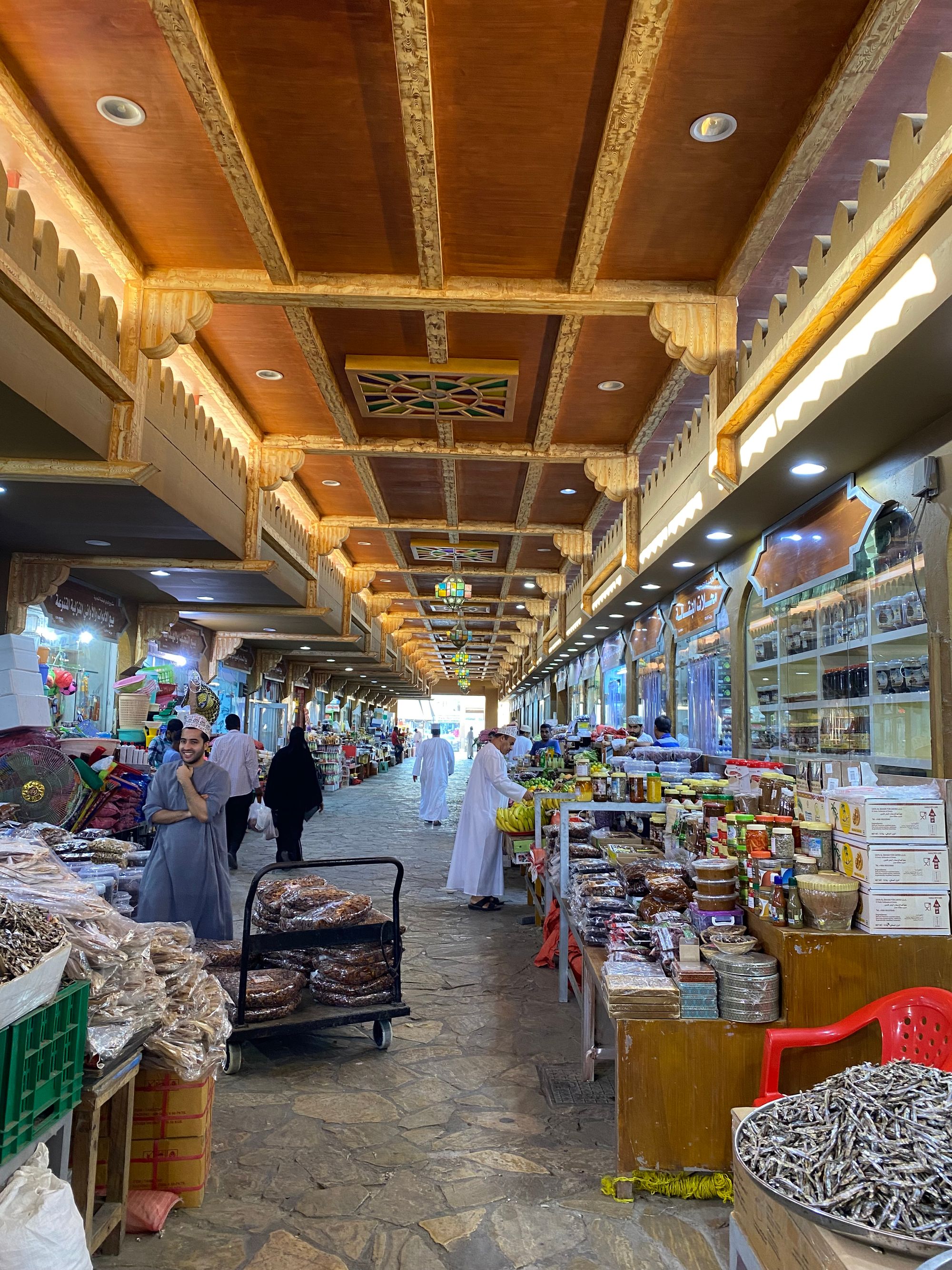 There, we packed the spoils of the trip: fourteen kilos of dates, lots of frankincese, some dried fish, among other things, praying no one at the European health control would stop us.
I left Muscat with the bittersweet feeling that I had a good time but wish I had explored more.
As the plane took off, I couldn't help but wonder of when I was coming back to visit Oman again.
And yes, I did get the points I needed :)